1ST WEEK OF JUNE
The transition

49" red drum
This week was a week of watching a transition happen. Early in the week weI found the school of reds. We'd hit'em and then have to re-find them. One time we found the school in shallow spooked them and had one about 45" free jump like a tarpon. I have never see that before, and it was amazing! I caught my personal best heavy red. It was 49' long with a wide 32" girth. We estimated the girth after release, so its not exact. But I had trouble holding it for the picture, I gotta think it was in the 50lb range.

The next day the school was hard to find. But when I did get to run into them I could pull two out.

The next day Lee, Damien, Mike, Rob Choi and I had a super long day of paddling, standing and looking and not seeing any. Toward the end of the day we began hunting the large sharks the we had been seeing throughout the day, just to keep our predatory sight casting skills in check. We made a few cast laughing at ourselves knowing a shark wasn't going to attack an artificial lure,we were just goofing off. Then Zach makes a cast, the 9 foot shark turns and Zach's line comes tight. He fought it for eight minutes before it finally broke off.

Later, I saw a 7 footer right up against the shoreline. I made a cast and it turned. I pulled the lure out of its was so I wouldn't snag the shark. I had a rattle in my large mullet swimbait. He must have heard the rattle and charged after it. It freaked me out and I yanked it out away from the shark as he saw me and thrashed away. This all happened within 10 feet from me and I was standing.

With the sharks ruling the area toward the end of the week the reds have undoubtedly moved out. Ill be looking forward to next year to GET ON'EM!




Zach doing work with a 10 foot shark on the other end.
43 incher
44 incher
why you dont want to lip red drum.
4TH WEEK OF MAY
Broken rod reds

We got a shot at some calm winds this week and headed over to the shore. The reds have been caught in the deeper waters so I didn't have a lot of confidence in seeing any. I heard reports of lock jawed striper schools swimming around and sharks in the swallows, so I figured it would be a sightseeing day. We didn't even bring any bait, it was a sight them or noth'en day."We are just going to paddle around all day and probably not see any fish. Or see some fish that don't want to bite." Not trying to lower expectations for the day, but to inform of the all too often reality of the E-shore.
We caught a few flounder waiting for the morning winds to die out. Then the winds dropped and there were on clouds anywhere in the sky. Standing, I had great long distance visibility and saw no signs of fish. The water was milky but the water clarity was alright. We paddled for hours until we found some nice clear water, and I saw a 30" red by himself. I wasn't ready and spooked him. I stood and thought "That can't be the only fish I see today." I paddled further and bumped into the edge of the mother load of big reds. One cast in and Thump! Into a 45"er.
We paddle up to the school and lob the swim shads into them, double hook up. With my drag in lock down, I was trying to end the fights quickly and cast in again, I snapped my new StCroix 2oz rod. The next one I fought to the boat with my light ¾ oz rod before I snapped it. Out of fishing gear we paddled on only to find another school of reds late in the day, 5 miles away from the earlier school. We ended the day landing reds on broken rods, I ended the day with 8. This was going to be my last day fishing the shore for this season, it's hard to not go back this week's fishing, we'll likely go back and try to GET ON'EM!



tough 48"er
3RD WEEK OF MAY
Black drum fishing


Bouy 13, latimer shoals
Every year when the black drum bite turns on we try to put our time in on'em and target them out at the Latimer shoals.

The last time we were successful at it was three years ago. At this point I'm feeling about the same at latimer black drum fishing as I do at cobia fishing a lot of money and a lot of time sitting soaking baits. The worst part is when

you se them caught beside you, like at B13 the first day, and the second day when Lee and I were at B16 and Mike P was sending pictures to Lee of red drum he was catching from a boat, just 4 miles away.

All lee and were doing was feeding $40 worth of clams to a million roundhead. I began to swing at the little biters just to break the boredom, hoping one of the times it would have hooked into a heavy black drum. Lee dropped a small hooked bottom rig to target them but they only wanted the 10/0 hooked fishfinder rig. We kept 7. It was an expensive and a long paddling day for some roundhead fishing.

The reds and black drum are still around and it's not too late to GET ON'EM!

Roundhead rig: 10/0 Owner J-hook, whole sea clam.
2ND WEEK OF MAY
Muddy breakers


I was able to get out for an afternoon early in the week. The water was milky in its clarity but I did get to come across a school of striper with the low angle sun.

The school and I were heading into each other, I got out to the side of them and made a cast across they're mass.

I saw one make a swipe on my lure; I recast the same way across the front of them and hooked up to a 43"er. Slightly disappointed it wasn't a 44 incher and my last citation for master angler but still excited for the fight.
The school was right beside me as I released the fish. I stood up and the slight breeze pushed me slowly backward.

The school swam into the current toward me. I was drifting backward against the light current as the fish were swimming into the current. We were both going at the same speed and the school seemed to just hover off my bow. I simply dropped the lure straight down and jigged it up and down. A 20 incher grabbed it, luckily he only had the tail and not the hook and quickly let go and got off.

Me and the school were still in the same formation, I dropped back down, jigged and the line and rod stopped on the way up. I set the hook and the fish lunged into huge head shakes, then we were in the fight. I landed em and it was a copy of the first 43".

Back up and looking, but the school dropped low and disappeared.
Next day out the winds were east at a lot of MPH. I hit the ships; they were catching flounder off the pier, but no bites at the ships. I saw a 15" male tog along the wall of the ships so I came in got tog gear and changed my target. I caught one baby 12 female after about an hour.
We had many super high tides this week which made the waters around the tip of the E-shore really muddy. Damien and I headed out; with no hopes of sight casting we hit the shoals. It was a very big swell day out there making it thrill just to be there. We had no runs and saw one 37" caught by the same kayaker that was out on one of the biggest days last year, he caught one that day to.
Damien and I should have gone after black drum which has finally moved into the bay. Since this is an open water area we have to fish for them we need no or very light winds to be able to get out there. Hopefully we can get the chance this week to GET ON'EM!



High and dry
1ST WEEK OF MAY
To windy for reds, found some flounder


Rob Choi and a 20" flounder
First flounder of the year, 19"er
4TH WEEK OF APRIL
A day of days!


It was the days of days, the day that all of the time and money spent crossing that bridge and paddling around without blinking staring at the water, all came together for one epic day.
Last year on this week we found tight schools of 40 inch class striper swimming around on top like schools of mullet. So this week I wanted to find it again. We were on the hunt early in the week with a half day scouting trip. Lee and I didn't see the schools but we did see some stripers, so when we got another chance to get out I had the plan of attack, striper on the morning outgoing, and reds on the incoming tide in the afternoon.
We approached the striper ally and Lee yelled "There they are", an obvious school of striper 10 yards wide and 30 yards long, Lee, Damien, Mike and I paddle to the outside of em and casted in. Lee and Mike were using poppers and the stripers were exploding on them. We worked the school until they were tired of us and turned off, we all caught stripers in the low 40 inch class except for Damien who landed a nice healthy 46" release citation. With the stripers weary of us and the tide dead low I wanted to go hunt a flat were we have found reds with a fair amount of consistency over the years.
Paddling with my eyes peeled I saw a tail break the surface nearly 40 yards out. I stood up and saw a big red roll under the water, sending a copper flash my way. I signaled to the guys that I have made visual contact; I waited for the guys for a simultaneous attack. Before we knew it we were in them. Mike made a cast, hooked up and got pulled away. Lee took my camera and followed mike as Damien and I tried to stay with the school, but we lost em.
We paddled back to where we saw them first and found THE school of reds, a field of them. There were so many all around us we couldn't sight cast, we just blind cast while reds boiled and scurried around us. About every 15 or so cast we would get a jarring thump and we were off to the races. At one point three of us had reds on, we all landed reds from 43" to 48" before the wind came up and the light went low.


It was our day of days, the day were it was a combination of multiple epic days last year rolled into one. We also had two first time happenings, Damien landed two citation species, none of us have done it, and so we think it's a first in VA kayak fishing. And Mike landed his first big red; he has put in his time targeting them from the shore, boat, and kayak. Not only did he land his first big red but caught more than us that day with 5 reds. I landed 4, Lee with 3 and Damien with one 46"er.


Days like this is why we go, trying to recreate the day of days when we really were able to GET ON'EM!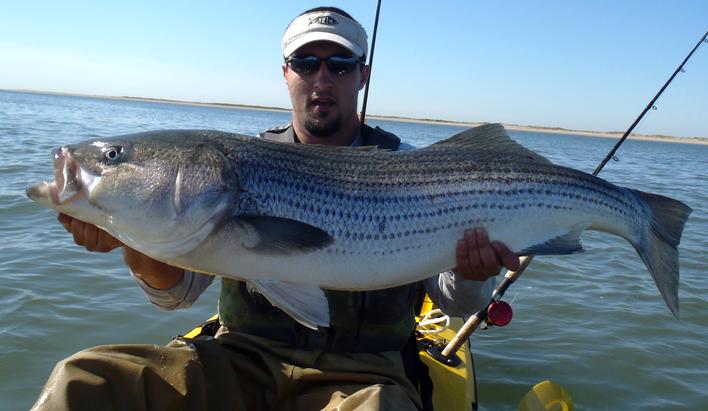 Damien Hall 46" Striper
Damien's 46" red Drum
Lee Williams 44" Red Drum
Mike Poirier 43" Striper
43" red
Mike's 46" Red
46"er
40" Striper
43"er
Lee's 46" Red
48"er
3RD WEEK OF APRIL
The reds are here!

Ric and I spent two windy days on the E-shore hunting the big reds. Wes Blow was the first scout that we knew that had gotten on'em last weekend from his boat, so it was time. Ric and I had the plan although the winds were mean, we made it out to the shoals. The shoals have changed alot in the past year. The sand has moved more toward fishermans island from the constant north east winds we had all winter. The configuration on the shoals is actually more chopped up than the past years, there are more outcrops of shallow shoals and deeper sloughs between them. Its looking really cool for the reds to hunt around.
We anchored in the wind blown shoals for about an hour before i just got over the winds. Ric looked on his GPS on the way in, we were drifting, not paddling at 3 knots.
The next day with 20 mile an hour winds with gust to 30, we decided to light tackle cast around the creeks. The water looked good, the temps were into the 60's, but we didn't have a bump. There were allot of mating turtles.
Ric headed on in to meet up with Wes to go out to the shoals on his boat. I decided to go with the wind over some flats. I had a moment of sunlight where I could see the sand and saw a dark blob of color on it. As I was blown closer I stood up and saw one roll, reds will roll onto there side in a school. I made a cast but it landed behind them which spooked em a bit. The biggest problem was I was being blowing over my line faster then I could reel. With in a few seconds I was running into them. It was a school of about 20 reds from 42" to 50", I definitely saw two that were giants.
I broke them up when I was blown through em but they regrouped up wind of me. I struggled against the wind to only have three cast land behind them. I finally got ahead to make a good cast, stood up and instantly began moving backward. I made a cast and it just riped through them to fast as the wind grabbed me pushing me backward at 15mph. Then they were out of my reach and they moved on.
The winds for this week look as bad as last week im just hoping the forecast will change so we can get a real chance to GET ON'EM!
2ND WEEK OF APRIL
Targeting the tog

We targeted tog again this week on both sides of the bay. First, the island and the next day the ships. We had to wait for the north winds to die out before paddling to the island. We didn't launch until 1pm and didn't reach the island till 3pm. The tog were slow to bite but we managed a few. Damien caught the first one at 15" and a few more about that size. I caught a couple in the 14 to 15 inch range and lee caught more than us.
With the wind forecasted at 20 to 30 from the east the next day, we headed to Kiptopeke. Stopping in at Chris's bait and tackle, we heard the small black drum have been caught in the bay pound nets even one caught of one of the barrier islands. We were sheltered from the super blowing wind on the west side of the ships. The water temps were perfect at 55 and we expected to wack'em like we had in the past. They were biting but not on fire. They were picky, only wanting the soft stuff. Only the freshest blue crab chunk and Slocum, and the butt piece from a hermit crab (abdomen) was working. But we caught tog, and I caught more than Lee. None were over 16".
With the news of the black drum entering the bay and the certain rise of the water temps we will start targeting black drum soon, then the reds. The shift of targets is almost here and time to GET ON'EM!

1ST WEEK OF APRIL
Lee's long awaited trophy tautog


Lee's 23" trophy tog
Lee and I loaded up on a dozen crabs each and had a window this week to get to the first island. We had to wait for the winds to drop in the morning but the afternoon promised to be calm. The temps finally crawled into the low 50's and stuck.
On our first few drops we knew it was going to be a had-to-find them day. We also noticed that the water temps on the bottom was real cold, in the 40's. This made the tog bite very cold. When we did find some spots where they were biting they only wanted the freshest crab chunks. Usually this is how they bite when it's cold.
Lee caught a small one; I had half of my crab chunk bitten in half with one strong hit, that one was big. Then lee hooks into a good one. Buy the way his rod was bent over I though a decent 20 incher or so. When he got it to the top he yelled "that's the one!"

She measured out to 23 inches, a VA release trophy tautog.

A tog citation is a hard one to get for us kayakers with our limit being the CBBT; the real big ones are on the nearshore wrecks, out of paddling range.

Of course big ones live at the bridge and the islands but a citation tog is a tough one to find.

You really have to put the time in, and lee really has in the past 6 years he has caught allot of tog at the CBBT. And out of our crew he is the tog sharpie. 9 times out of 10 Lee will out catch everyone on tog. I think I can count the times that I outnumbered lee on one hand, not using all of my fingers. Lee is just a tog whisperer or something.
I ended the day with 3 landed all under 14" and lee with 4 all but the big'en where under 15". Slow day but always a good day with a well-deserved trophy tog. Hopefully the warmer water temps will distribute in the water column this week and get the tog active and hungry. We'll get out this week and if all the conditions are right we'll GET ON'EM!


LAST WEEK OF MARCH
Just getting out and the big show


I have finally crawled out of my winter hibernation from behind the computer where I have been putting together the next DVD. "Kayak Fishing the Chesapeake Bay 2" should be ready by the fall. On this one will be the shoals, the island and sight casting, something different from the first DVD is I'm going to include a flounder segment. Along with the epic fights, this DVD will be more instructional. We will go in depth about the rigs, baits, knots, bait position and presentation, also the one arm paddling technique, the currents around the CBBT, and the fish migration.

I am about 80% done with the DVD, we still have to shoot the flounder segment this spring/summer and put that in. I should have a trailer up this summer. The only bad side is I can't do any videos for YouTube until I get the DVD done. My computer is sketchy when I try to do too much HD video at one time.

We hit the HRBT for some striper action. She caught her first fish of the year and I caught my first fish from my new trident. I sighted fish up 27"s in the forward lightline (west side, west bridge). Man it felt good to paddle, and get into some fights.

Last weekend I was lucky enough to get to work with Ocean Kayak at the Jersey Paddler show. I've been trying to get to the show in the past but things finally came together and I was real stocked to go. First it was great just being at this show. It is the largest paddle sports show on the east coast. Think of the Richmond fishing show a few months ago, minus the big boats. The Jersey Paddler show is that big. And I gota thank the Jersey Paddler and Ocean Kayak crew for bringing me up there. It was great seeing all of my northern friends, the Maryland guys who came out and all of the folks I meet from the area who knew about my website, it was really cool to meet you guys and get to talk to you for a minute.

If we can ever get a calm wind to get out we could get on some tog. The temps are still hovering in the high 40's, I like the water temps in the 50's for tog but if we get a few days of warm weather, like what is forecasted for this week. If you only have one shot at togen this spring be sure to get out there when the temps hit 55, that's the golden number to GET ON'EM!

Jersey Paddler show
Jersey Paddler show
Jersey Paddler show
Jersey Paddler show
Jersey Paddler show
Kayakkevin.com Productions Norfolk, Virginia


© Copyright 2007-2011 Kayakkevin.com Productions. All rights reserved.