My most favorite thing to do
I've been staying close to home lately, but lately my backyard fishery has been not producing any fights for me. So I paid the toll and crossed the CBBT.
Chris's bait and tackle supplied up on some DVDs then I launched. I tucked back to get out of the wind and the water was clear. I stood and saw a nice red pushin the 30" range, I smiled. I paddle further back and I run into a pair, both that large almost 30" range. Usually a jumped red will push off a good 10 to 15 feet with three tail pumps. These only pumped once and turned up current, almost like they didn't really see me. Maybe there was just enough cloudiness in the water to hide me, maybe it was the colors I was wearing, maybe it was my muscle memorized stillness when their eyeballs were on me, or maybe they know they are past the size to be threatened from the skies. Usually when I spook one I just have to let em pass because it's not worth castin to em, they are too worried about me than the lure swimming past em. These were ready as soon as they turned. A few from the day were caught just feet from my kayak.
The water was dropping and I would see an individual or a pair, not big schools but every one of them in that 26 to 28" range. I'd hit em, and in this small area the fights would disturb the rest of the fish, so I would give them time to reset. In the deeper holes were small striper and baby specks. Those kept me busy while waiting for the reds. Twice while I was taking a break and eating, a red would crawl along the edge of the deeper holes charging at bait. I didn't even have to stand up for those. One thing that was really impressive was when one of these near 30"ers would come up to the top and blow a giant hole in the surface of the water, explosive in this tranquil little creek.
As the water got even lower small schools of reds were belling crawling over the grass clumps smashing the millions of grass shrimp hiding in that foot of water.
The water level got to low tide, it was getting late and I was gona have to pull the kayak out of a lot of spots. On the way out I stopped at the full pools and walked along the side, I pushed a few reds out and watched with a smile as they pushed a wake in that shallow water.
I worked my way out to a wide area of flats. The sun was too low to see color so I knew I would be able to see the reds in the water. I switched my targeting systems to read the surface of the water instead of reading color or movement changes in the water. I stood and paddled and scanned the water. Then my targeting systems picked up on something, a wake that was different than a shoal but similar. They were moving and I tracked them until I could predict their direction and I was in range, and in the right position. I fire a cast out in front of them and get one on. He comes out of the water shakes his head and throws the hook. I try to keep an eyeball on their direction but it looked like the school split in two. I tried to track em but they scattered out and I lost them
There is no other way I like to fish more than sighting them, and this year class of reds is super exciting in the shallow water and light rods. Nothing beats that interaction I get when I get a shot to sight em and GET ON'EM!!!
Low tide drag out
Tailers
5TH WEEK OF SEPT
The end of the red run in the bay

The 10 th annual Tidewater Kayak Anglers Associations tourney was this weekend for the charities of Heroes on the Water and Project Healing Waters. The day of the tourney it was windy. North at over 10mph, I wanted to fish the CBBT for reds or the inlets specks flounder and lil reds. I ended up just staying home and working on the DVD trailer. Plus with the next few days were going to be awesome for fishing. I really wanted to save my energy for the paddle and the potential fights I could be getting into.
That morning I did have a text from Rob Choi that said "I'm launching" Rob and a few of the Maryland guys caught reds for the tourney and Rob landed 2nd biggest red.
Me and Lee set up the podcast at the awards night and had fun talking to Tom VanderHeiden, Rob Choi, John "Toast" Oast, John Blair, Dan Smullen, and Luther Cifers.
The next day was the winds were dead calm. John Blair who was on the podcast with Toast the night before paddled out to the CBBT to see how the Reds were doing. The Maryland guys had a good run of reds in the morning but the bite had thinned out in the afternoon. Took a while but I eventually found a 46"er. Then a little while later John found one and a good one for his first time, a 50"er. We saw one more caught and that was it.
The next day Jay paddles out before me and drops a bait on a reds head. I get out about an hour later. A few boats and kayaks were fishin. I jigged for a while till I came across some bait attacking the jig then I send down the fishbites rod and try to catch a few. Had a few croaker and a real nice spot that went on first.
The drift was strong so I was bumping the rocks and coming close to snagging my hook. I repositioned one time close to the rocks dropped the spot down and it felt like he found a hole in the rocks and wedged himself in it. I yanked em out and paddled off about 10 feet. I reel up the spot to check em and he was dead, and had been scaled, he was in the mouth and the crunchers of a red, the circle hook was stuck back in to the spot. I yanked the spot clean from a reds mouth.
I got tired of snagging the rocks so I went to jigging since I can control the snags before they get stuck. Caught mine for the day on the jig
The next day, Jay and I hit the pilings but it was a dessert, no bait no fish no action
The next day me and Lee and Ric hit a local inlet. Ric had to get some shots of a new kayak from Viking kayak from New Zealand. After the fishin for a bit and getting the shots we landed so me and lee could paddle the Viking. It was a cool open water fishing kayak.
Ric had caught two specks. So a few were around, i received some cool weighted hooks from hardhead custom baits. The weedless weighted hooks had a small spinney blade on it for a tough of flash. I showed lee before making a cast. Of course Lee was jokin the spinney dingy and how it's not gona catch any fish and bam!! 19" speck on. I wish I was rollin video because it couldn't get more perfect than that. I also wish I had cams rollin when I tried to land it not being in my kayak, a little bit awkward.
Then I either caught a little fall cold or a sinus infection and i was off the water for a week. But I also got the #3 DVDs done and on sale, it took three years to get that thing completed. Slow striper seasons and a lack of funds delayed it till now. I am relieved to finally have it out.
Now this week I'm recovering from my cold and i can get on the water and GET ON'EM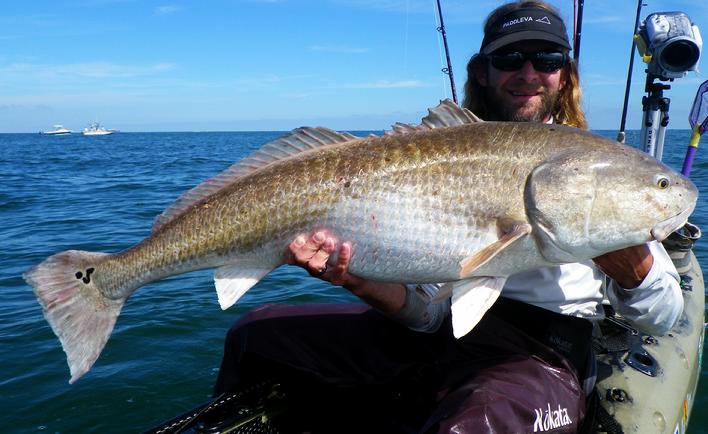 Birthday Red 46"er
Second day 46"er
First speck of the season 19"er
Ma' Nature left the winow open, and I got out
I only had one afternoon that the wind window was going to open, but I had to paddle in a stiff headwind in order to fish between the next blow starting at sunset. But the paddle in would be with a head wind.
It took two hours to get out to the island, but once I got there the winds died. There was a slight breeze to push me on a drift. I started bouncing the jig and snagged a croaker. I put him down and caught another for the live well. I reset on a drift.
The first one found the croaker and measured out at 45". I reset on the drift and drop the last croaker right into a reds mouth. I was just starting to eat a poptart when the rod bowed up. This one was a 47"er. With no more bait I go to bouncing the jig a few drifts later the reds are back around, I hook one and start the fight. Halfway thru as the fish was pulling too the right, I put alot of pressure on the line to get my boat turning in that direction and pulled the hook out of the red. That didn't phase me, they are here since that fight didn't take long, I re-casted. A few cast later another one grabbed it but he was running at me and I didn't get a good hookset, that one came loose. The next did the same and I said out loud "What!?! Do I have rubber hooks on today???"
The next one I stick em like a tarpon! Multiple hard yanking hooksets and this one stayed stuck. I get em boatside, get the leader in my land, he looked like the size I could just leg and leader in, on his way up, he jerks his head the other way and my knot breaks. I had run into the rocks a few times and reds have teeth.
That was all the action to be had as the wind came up and the sun began to set. With that tail wind that was up past 10mph by the time I got to shore, which only took me and hour to get too.
That was the only window of opportunity I had to get to the reds this week. I did get out to the inlet for some pre podcast fishing, I was looking for croaker and couldn't find em at all, but I did cast my flounder jig to a spot that lee lost a big one a few weeks ago and it seems I found that one that got away, a nice 23"er.
Fall is on, get those opportunities to get out and take em, your gona GET ON'EM!
47"er
46"er
23" pre-podcast flounder
Yep, the word I have to use is epic
First red of Fall
Epic is a word that seems to be used alot, I can understand how a good day can feel epic but it's a good day. I would reserve the word epic for record breaking days.
In that since the two days I got out this week were epic, over the two days I caught 12 reds, that's more than I caught this spring season, and caught my biggest red at 53", have already past my yearly best with 22 (over 40') so far, plus hooking a surprise cobia.
Day 1, forecasted to be a bit windy but not enough to be not doable. As long as it was going to be under 10 mph I would be good. My plan was hit the pilings for a little bit but manly paddle out to the islands and fish open water rather than the piling gauntlet.
I wanted to have a few baits to start off with so I heading to the out-of-the-wind side of the island. Jay was on the windy side, and the side that I needed to fish. I find a school of croaker and loaded the live well with 4 nice size baits. Jay texted me and landed one, I paddled over.
The wind was pushing me to the rocks on my drift. I would drift into the rocks and paddle back out again. My first one and second grabbed the croakers just as I came off of the rocks. The one made it a good day, but it was just starting. The third was the same way. I lost my croaker in the rocks, paddled off sent the last one down and dropped it into a reds mouth.
Out of bait, I turn to the jighead and big gulp and start bouncing, using the wind drift to cover the area. Bouncing in and paddling out and found two more before the winds really started picking up and I paddled in. Ended day 1 with five reds from 44 to 49 inches and three under 40's between 27 and 30"
Day two I was actually thinking it was going to be too windy to get out but in the morning the forecast was a go. I head out not even stopping to catch bait.
Half way out lee calls and says he's getting off work and coming out. I get to the spot with a few flounder fishermen; I drop my jig and start bouncing. A few min in I get the first thump and fight the first one of the day. I was already sore and slow from the day before and this one was a warm up.
A few mins later I hook a big one. He almost pulls me into a boat but I was able to rein him to the right and skim past them without them having to move. I knew this was a big one just by the way it was pulling. When it surfaced, it was a 50"er when I put the tape on it was a 53"er, that's my biggest one yet. Last year's 51.5 was my biggest and that one was really big around. This 53"er had a girth of 30"
I jigged thru a school croaker so I went back and caught one so I could take a break from jigging and eat my lunch, but still be fishing.
Just as I'm finishing eating the croaker gets taken and lee paddles up as I'm fighting. One of the funniest things for the day was the how the boaters were reacting, one asked, "What's he got, a flounder?" Or "Are ya snagged?"
Lee mentioned " This is the time of year to catch a cobia on a live bait out here."
I hook something that at first felt like one of the small 30"er reds. When I saw color I saw that it wasn't a 30"er looked closer to 40 then it surfaced, COBIA! I was surprised, Lee was not. It fought like a shark I kept it close and wanted it to wear out a little before trying to land em. I saw that the hook was not inside the mouth, not good to see, it looked like it was on hooked to the skin of the lip. I lightened up on em, and every time he would dive he was rolling and twisting that skin, it the back of my mind I know this wasn't gonna last long.
I thought about the lip gripper, but I saw an opportunity to scoop em in. I got my leg down my hand on the leader, when I pulled the hook came loose, I grabbed at the tail but the cobia had too much power left for me to hold on.
I wasn't that disappointed it loosing it at the boat compared to the 7 reds that day and the 5 from the day before that little 40 cobia didn't even fight.
The wired thing was Lee didn't get one, although it wasn't a supper hot bite, it was sporadic all day, but still Lee was right in the same spots doing the same thing. Maybe it's, as lee calls it my "hippy voodoo s***" Whatever it is, I'm thankful to be able to GET ON'EM!
first one 49"er
Second Red a 46"er
Third red at 48"
Fourth of the day, a 44"er
Last one of the first day, a 47"er
Round Two....FIGHT!
First one of the second day a 46" red
The second one and my longest red to date, a 53"er
A 47"er for the third one
Fourth one a 44"er
Number five a 46"er
The sixth a 46"er
Seventh a 47"er
Cobia get off, ill have the video up in a few weeks
Kayakkevin.com Productions Norfolk, Virginia


© Copyright 2006-2017 Kayakkevin.com Productions. All rights reserved.